Join Us
Dehong Xi'an Schools is designed for Chinese students and offer an academic programme comprising of the Chinese compulsory curriculum combined with the leading educational philosophy and pedagogy. It aims to develop citizens of the world who understand traditional Chinese culture and are nurtured to develop an open, inclusive mentality. Our core beliefs are "students come first,they benefit from holistic education".
Dehong Xi'an School is located in Huang Qu Tou 3rd Road, Qujiang New District, Xi'an, covering an area of 25 acres, the school officially opened on September 1, 2019, currently catering for students Grade 1 to Grade 6, In subsequent years the school will add year levels to build to a full Senior School.
Our college is academically selective and follows an enhanced curriculum adapted for the needs of our students. Our academic curriculum is complemented by a rich enrichment programme. Continuing the tradition of excellence started by the founding school, aiming to educate graduates to go on to study at leading universities.
Admission Telephone Number: 029-6827 6000
Admission Email: Admissions-xa@dehong.cn
WeChat Official Account: Dehong_XA
Admission Process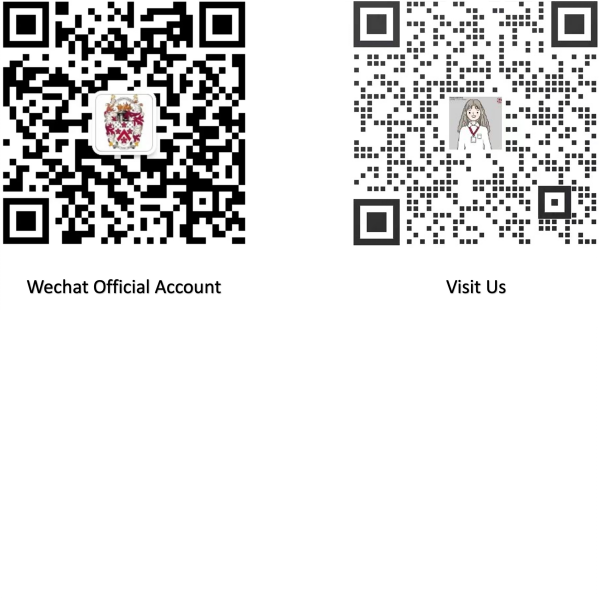 Step 1: Know more about Dehong
Step 2: Online Application
If you would like to apply for Dehong, please contact us on Wechat (Scan the QR code on the right side).
Step 3: Education Experience
Step 4: Admission Notice Letter
Step 5: Enrollment Materials
New Students: Accepting Admission Offer and submitting materials (photos, Residence Booklet, and Vaccination Record Booklet, etc.) based on Enrollment Guide.
Transfer Students: Accepting Admission Offer and submitting materials (photos, Residence Booklet, and Transfer Application, etc.) based on Enrollment Guide.
Step 6: Tuition Payment
Step 7: Dehong Uniform Day
Step 8: Registration & Opening Ceremony
* We guarantee fairness and due process to all applicants and no external agent is able to circumvent eligibility criteria nor school waiting list. Dehong does not charge any fees during the admission process. Please visit Dehong Xi'an WeChat account or official website to fill in the application form.
Admissions Criteria
Dear parents,
Thank you for visiting our website and your interest in joining us! We know that choosing a school that is right for a child is a major decision for families. To truly understand our school, the most ideal way must be an in-person visit, face-to-face communication and close contacts with teachers and students, in order to personally experience the culture and atmosphere of the school.
G1: 6-7y - Birth date from September 1, 2014 to August 31, 2014
G2: 7-8y - Birth date from September 1, 2013 to August 31, 2013
G3: 8-9y - Birth date from September 1, 2012 to August 31, 2012
G4: 9-10y - Birth date from September 1, 2011 to August 31, 2011
G5: 10-11y - Birth date from September 1, 2010 to August 31, 2010
G6: 11-12y - Birth date from September 1, 2009 to August 31, 2010
Open online application is now available. Please read the following guidelines before starting your application:
Please confirm that what you are applying for is Dehong Xi'an School.
In order to ensure that we can contact you in a timely manner, please be sure to fill in

Online Application

;
To ensure the effectiveness of each visit, the number of seats is limited. We suggest you apply as soon as possible.
The official public number of "Dehong_XA";
Please dial the admission number during working hours: 029-6827 6000, 029-6827 6031
Please send email to: Adimissions-xa@dehong.cn;
Frequently Asked Questions
Below are a number of questions that our families often ask members of our admissions team.
Currently, we have two methods:
1. 'Dehong_Xi'an' Wechat Public Platform
Applicants should follow our Wechat public platform "Dehong_XA", and choose the Admission section to complete the application form.
2. Dehong Official Website
Applicants who wish to apply should complete the online application form at https://www.dehong.cn/
Maximum 25 students in each class.
In the 2021-2022 Academic year, the ratio for our students to teachers is 1:8.
The freshman should be 6 years old before August 31 of the year of enrollment. Students of Chinese nationality (subject to relevant laws and regulations and the approval of the education department) including Hong Kong, Macao and Taiwan regions.
Registered permanent residence is located in Xi'an or in accordance with the "Xi'an compulsory education nonlocal registered permanent residence policy provisions access class list of students" (Annex I) students.
Dehong Xi'an School, in its fourth year, welcomes proper aged student applications with Chinese or foreign nationality.
Xi'an Dehong is located in Huang Qu Tou 3rd Road, Qujiang New District, Xi'an.
Optional school bus transportation service is available from several key locations around Xi'an for an additional charge.
School lunches and snacks at Xi'an Dehong is provided by our caterer, Sodexo services, on our campus.
A school nurse is provided by Global Doctor.
Xi'an Dehong provides school uniforms for all seasons.
Useful Documents
Below you will find useful documents to help complete your application. Our admissions team is also on hand to guide families through the process. Please contact us by email Adimissions-xa@dehong.cn or call 029-6827 6000 or 029-6827 6031.